Full name: Prince Philip, Duke of Edinburgh, (born, Prince Philip of Greece and Denmark)
Born: 10th June 1921, Mon Repos, Corfu, Kingdom of Greece
Son of Prince Andrew of Greece and Denmark and Princess Alice of Battenburg
Married: Queen Elizabeth II, 1947 in Westminster Abbey
Died: 9th April 2021, Windsor Castle
Being a consort to the monarch has always been challenging role, nevertheless historically it had always been the role of a woman owing to the majority of kings. For Philip, the role of a modern Prince Consort had been established by his own great-great grandfather, Prince Albert in 1840 when he married Queen Victoria. However, Albert died in 1861 and the role had not been fully defined owing to Victoria's adoration of him, and giving him unconstitutional power while she was pregnant. For Philip, this is a role he has developed from the Queen's accession until his retirement in 2017 at the age of 96.
Despite having no Greek blood, Philip was born in Greece as a member of the Greek royal family. This was because his Danish Grandfather, George had been nominated to take over the Greek throne in 1863, after the overthrow of King Otto. Philip's father Andrew, the fifth son joined the army and was involved in the Balkans War of 1913. However this led to the assassination of George and subsequent exile of the family during the First World War. Andrew and his family were later able to return and he became Major General in the Greco-Turkish War from 1919 – 1922. However this war ended badly for Greece and Andrew was blamed and exiled for a second time. It was during this time that Philip was born. His mother was Princess Alice of Battenburg, a great-granddaughter of Queen Victoria who spent much of her youth in London. Alice and Andrew were married in 1903 and had 4 daughters before Philip was born. Philip was only a baby when the family was forced to move to Paris which is where he spent his early years.
Philip with his mother, c.1926
Philip was educated at an American school in Paris before moving to schooling in the UK, which culminated with Gorndonstoun in Scotland. While at school his sisters were all married to German Princes and moved to be with them. His parents marriage had collapsed and his mother, suffering a nervous breakdown had been committed to an asylum in Switzerland while his father moved to the South of France. It was during this period Philip described himself as 'homeless', having no fixed home and regularly stayed with his maternal uncle, Louis Mountbatten at his home Broadlands in Hampshire. In 1937 his sister Cecille along with her husband and two sons died in an air crash in Belgium. 16-year-old Philip attended the funeral in Darmstadt which was also attended by high ranking Nazi officials.
Philip while at Gordonstoun.
After leaving school Philip trained in the Royal Navy at the training college in Dartmouth. He spent time during the early part of the Second World War on board the battleship HMS Ramillies in the Indian Ocean and then spent time part of the Mediterranean fleet. Philip was mentioned in dispatches for his the battle of Cape Matapan. 1941 he was commissioned to sub-lieutenant before being promoted to Lieutenant in July 1942, at only 21, one of the youngest first lieutenants in the Royal Navy. It was at the Naval training college that he met his future wife, a young Princess Elizabeth who was visiting with her parents. The pair kept in touch and became engaged just after here 21st birthday in April 1947. For them to marry, Philip had to renounce his royal titles and became a naturalized British citizen. On their wedding day he was made Duke of Edinburgh by the King.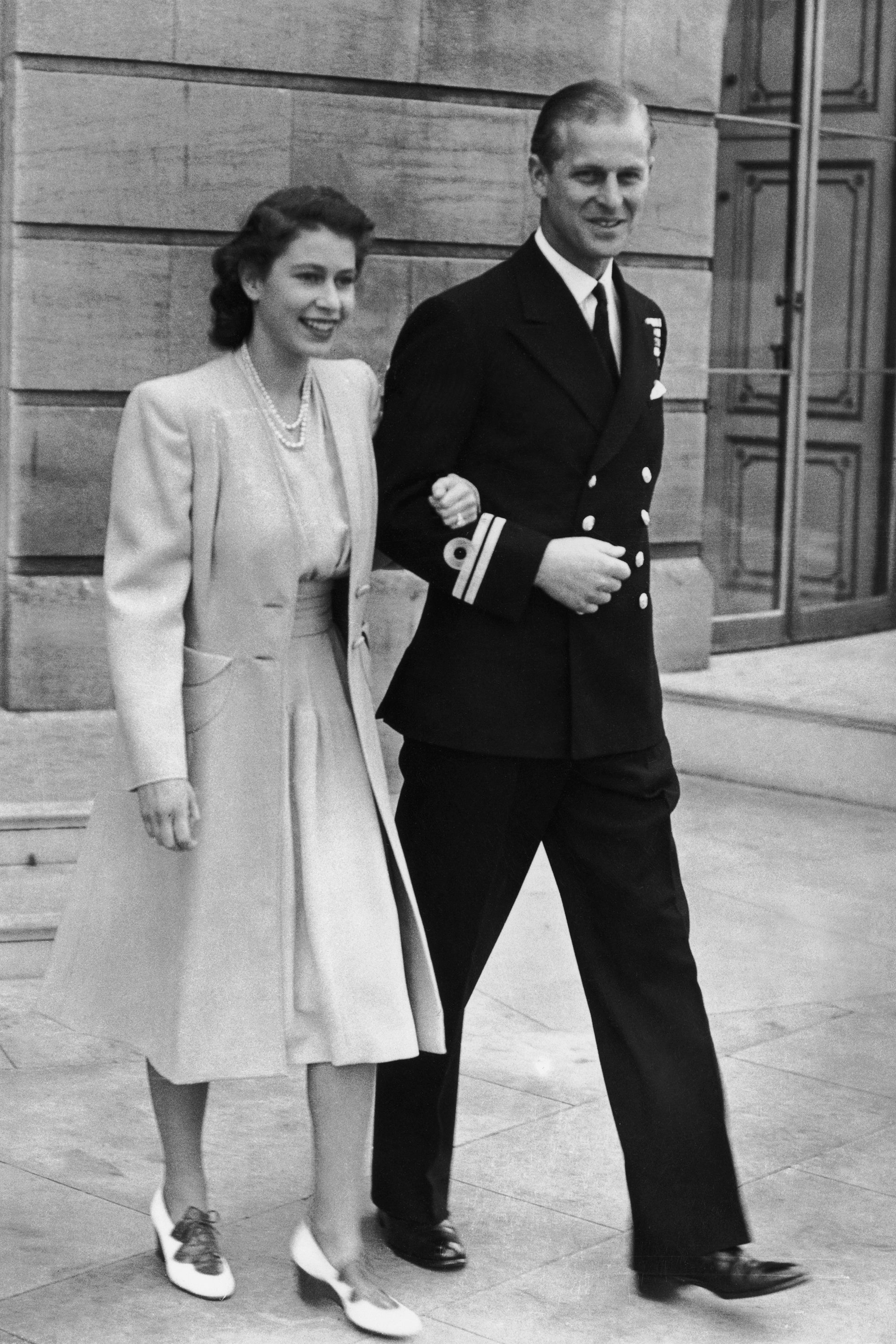 After their wedding, Philip and Princess Elizabeth settled in Clarence House and had two children in quick succession, Prince Charles and Princess Anne. Philip continued his career in the navy and was posted to Malta. Owing to the King's failing health, Philip and Princess Elizabeth represented the Monarch in undertaking a long tour of the Commonwealth. It was while in Kenya, on Safari that the news of the King's death reached the royal couple. From here on their lives drastically changed. Philip's role became one of support for his wife and it was difficult for him to accept being second to his wife.
Philip with his wife, the Queen and their four children.
It has been perceived that he struggled to find a role for himself at first and spent much of time enjoying the privileges but resenting the duty. However he came into his own by becoming patron to many charities and organisations. Throughout his years of work he became patron to over 800 charities. He also founded many organisations, the most notable being The Duke of Edinburgh's award. Over 8 million people worldwide have taken part in this scheme.
The Duke meeting gold award recipients in Edinburgh 2010
In 2017 it was announced that after 65 years of supporting the Queen and leading his own charitable events, Philip would retire. He is now rarely seen except for family events such as Christmas and weddings. He spent most of his retirement on the Sandringham Estate, painting and reading and enjoying his time away from the public. In 2020 when the Coronavirus pandemic broke worldwide, Philip joined the Queen at Windsor Castle where they spent most of their time together. In February 2021, Philip was admitted to hospital and underwent heart surgery. He was discharged in March and returned to Windsor. At noon on 9th April 2021, it was announced by Buckingham Palace that Philip had passed away peacefully that morning. Philip's legacy is his longevity as the longest serving royal Consort. He died two months and a day shy of his 100th birthday. He has been remembered for his unfailing duty to the nation as well as his quick witted remarks.